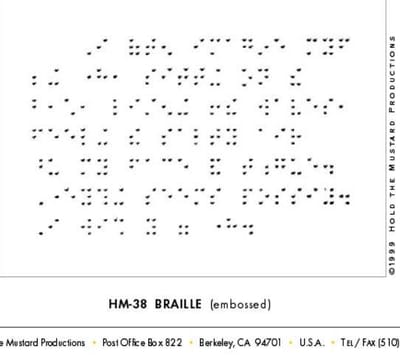 I listen to the waves at the seashore and watch them roll in. in and out. They never stop.
My mind wanders. I think of love. I smell the sea life air. I think of grains of sand slipping through my wet toes. I think of starry nights and streaming comets and glowing rounded moons. I think of thousands of fishes that will run with the tides at a certain season and time each year.
There are moments in my life when everything is so completely and totally understandable, all I can do is gasp in wonder and cry a special brand of joyous tear and try to tell someone all about it.
There is a postcard that I TREASURE. I found it in a postcard store in 1984. It totally says a lot of what I want to say. Maybe it says everything! !
the card stock is braille with braille dots as the postcard "scene" thats raised little "bumps"
on a white background. The effect is that you are sending this postcard to someone and its so complete that at first glance…it seems like nothing is there. To a sighted person, the card seems blank. Its all white.
Turn it over. In very small print it says ,
"I often imagine myself being here. Sitting on the beach,listening to the waves, feeling the salty air upon my face and tongue. Everything seems possible. i wish you were here"
so.. its not blank. The front is the poem translated into braille. Touch. speaks a language that is very real but is little known. What could be more communicative than a fingers touch.
And the artistic statement is so strong . my words dont do it justice.